What is a Voice Search?
Voice search uses speech recognition technology that allows users to enter search queries  using the voice instead of text. Voice search relies on NLP (Natural Language Processing) technology to determine accents, interests, behavior. Gradually this technology discovers the broader contextual and informational relevance of the specific query.
With the increasing popularity of mobile personal assistants, websites optimized for voice search can reap additional benefits.
Miromind offers actionable tips and ideas for the best SEO voice search optimization techniques that actually work. This is a voice search guide and at the same time a glimpse into our Voice Search SOP, based on research and experiments, that have worked for us and our clients.
Download Voice Search SEO Infographic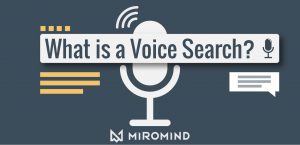 From Mobile Search Optimization to Voice Search
Mobile search traffic accounts for 51% of the entire traffic that websites get. Of course the number will vary depending on the industry, however most industries get a fair share of their traffic from mobile devices. The SERP results for mobile and desktop search are different for exactly the same query, which has shaken up the SEO industry as marketers scrambled to adopt to the new mobile-first approach.
Now, with mobile searches becoming increasingly popular, voice search has started gaining pace, with over 20% of all mobile searches becoming voice searches. 71% of people between the ages of 18 to 29 use Voice Assistant. These numbers indicate that in the coming years the companies will need to adopt their strategies to not only mobile-first approach, but also voice-first approach.
Text Search Vs. Voice Search
To better grasp the strategies that need to be put in place for voice search, we need to understand what makes the voice search different and why it requires special attention.
What Are the Voice Search Major Ranking Factors?
1. Continue optimizing your website for desktop search. Websites that rank high on desktop search for certain topics are likely to be used for voice search results. Therefore it makes no sense to create 'separate' pages targeting voice search queries.
2. Authority of the domain matters. The more authority your website has, the more likely it is to appear in voice search results.
3. Address intent and pain points. While the website on the desktop search is more likely to be displayed using 'direct' keyword combinations such as 'marathon training', voice search will most likely display the website that has answered the question within its text (as the user is more likely to ASK the question): 'how can I run a marathon?'. Therefore if you have an authority domain, your page is optimized for certain semantic and conversational groups of keywords AND answers the question or addresses  the pain point, then it will very likely be the number one candidate for voice search results.
4. Secure your website with HTTPS. For the past two years we have noticed that websites with SSL certificate perform much better on SERP, while websites with HTTPS protocol dominate the voice results page.
5. The content length and structure matter. The voice search results are dominated by pages that have over 2000 words of content. So if you were thinking of creating short pages using long-tail keywords – think again.
6. Work on Google My Business page. Given that a lot of the voice searches are 'on-the-go' searches with Google prioritizing top local business or 'local 3-pack' in its search results, you need to not only work on your pages and content, but also take your My Business page seriously if you haven't already done that.
How to Optimize the Page for Voice Search?
Now that you know the basics of what is important for Voice Search rankings, it is time to discover of how to actually make your page voice-search-friendly.
1.    Website Authority
First of all, you need to have an authority website, as most of the voice search results come from TOP10 of Google's regular search. So continue with your regular SEO strategies for top desktop search results. The keywords your page is ranking for in TOP10, are more likely to appear in voice search results if you follow the instructions below.

2.    Use Long-Tail Keywords & Low-Hanging Fruits
Yet again, keyword research may be necessary. Considering that the majority of voice search keywords are conversational, then you need to discover long-tail keyword combinations applicable to your specific page.
Moreover, the majority of voice search queries have informational intent. So try to address as many pain points and answer as many questions on the given topic as possible. Look for 'what, how, why' combinations with informational intent. You can use Google's ideas to think of more question combinations, in the 'People also ask' section in regular text search.
3.    Optimize your page
Voice search is another proof that your page needs to be 'reader-friendly'. Considering that Google looks for an answer on your entire page, rather than the page title, the way you organize your content is very important:
Good old 'content is king', has been replaced with 'long content is king'. Although Google uses only short snippets in its search results, these snippets come from rather long pieces of content, over 2000 words on average.

After you have discovered possible questions you can ask and answer within your article, make sure that you provide concise answers to these questions. The average length of answers that Google displays on voice search results is around 30 words.

Adopt structure and simplicity. Google loves short paragraphs, simple language and lists. And this applies to SEO for voice search. Write well-organized, well-structured and short answers in plain English (or any other language you might be working with).

Use many contextually similar questions within your article, but structure them logically. Do not just simply ask and answer random questions, make sure that the text 'flows' opening up the topic gradually and logically using h2 and h3 subheadings.
One thing to remember is that the combination of these factors is important. Having just authority domain or just 'king' content is not enough.

How to Optimize the Page For Voice Shopping?
Voice commerce is gaining momentum fast. With nearly 50% of users turning to voice search, it's only a matter of time until the majority begins to shop hands free. Alexa, Siri, and Google assistant have gone from being browser extensions to shopping partners.
More than a third of SMBs in the United States are investing in voice search optimization to ensure a seamless experience for their clients. Let's take a closer look at how to optimize your store for voice shopping.
1. Focus on Long-tail Keywords
When shopping online, people tend to shorten their queries to type less. To optimize your e-store for Google search, you may have used such keywords as "red shirt in NY" or "buy red shirt near me."
Now that your clients are using voice assistants, you need to switch the focus to "Where to buy a red shirt in NY" or "I want to buy a red shirt in NY."
While the main keywords should still be part of your strategy, long-tail keywords and phrases deserve as much attention as you can give them. In short, these keywords should be more conversational.
Here are a few ways to find long-tail keywords:
·         Use "People also ask" section on Google after typing in your short keyword.
·         Use Autocomplete Results on Google.
·         Use Google Ads to generate ideas for long-tail keywords.
·         Use Answer the Public.
·         Use your favorite keyword research tool
2. Improve Your Business Listings
If you have a brick-and-mortar store, you want voice assistants to offer it to the searcher as often as possible. When a client asks Google assistant of Alexa to "find the nearest store to buy a red shirt," the fast way to become visible is to optimize your business listings.
From Google My Business to Yelp and Facebook, you need to fill out all the relevant information, including business hours, contact details, website links, etc.
Since most shopping-related keywords are in the form of questions, you need to capitalize on them. The best way to do it is to create a question & answer section. To make it as useful as possible, you need to identify the needs of your clients and figure out what worries them the most.
For example, if you are selling shirts, add a couple of questions about taking care of them or go even further to give fashion advice.
Q&A and FAQ sections are perfect for e-stores since they allow you to use long-tail keywords in "questions" and give valuable information in the "answers." This approach can improve your voice search ranking substantially.
4. Work on the Loading Speed
E-stores tend to suffer from slow loading time. The abundance of media you need to upload to ensure a seamless shopping experience can slow down your website. Since many consumers use voice search from their mobile, the loading time is even more important.
If your e-store pages are loading in less than 2 seconds, you need to work on the loading time.
Pro tip: In 2021, Google will introduce a Core Web Vitals initiative that focuses on user experience. By that time, if your webpages load in under 2.5 seconds, your rankings may drop significantly.
If you are listing your products on Amazon, you need to pay attention to Amazon SEO, which is somewhat different from what you do for other search engines.
Amazon doesn't pay attention to your website's performance (obviously). All it cares about at how well your listing is optimized to drive a sale. To make sure your product appears as a result of an Amazon user's search:
·         Use high-quality images
·         Work on an ideal product title (Amazon makes suggestions)
·         Create easy-to-read, valuable descriptions
·         Use as many keywords as the space allows
·         Consider making your seller name a ranking factor (turn it into a keyword)
·         Generate more reviews (send customers reminders to leave a review after each purchase)
Many Amazon buyers are using voice search to find the products they need. Many of them are taking full advantage of Alexa's functionality.
6. Create Conversational Content
With voice shopping, content is still critical for SEO. By creating valuable content for your shoppers, you are utilizing long-tail keywords and giving answers to various questions.
When creating content for voice search customers, make sure the tone of voice is conversational. When shoppers talk to the voice assistant, they expect more than cold and hard facts. The psychology of speaking calls for a human-like response.
Accordingly, the content you create with the voice search in mind should contain natural language and look more like storytelling than a scientific article.
7. Optimize for the Featured Snippets
The featured snippets or "position zero" on Google search has become the most coveted place for many companies. Almost 41% of all voice search results come from the featured snippet. So when optimizing your e-commerce website for voice shopping, you need to pay special attention to this SERP (Search Engine Results Page) section.
·         Give valuable yet concise answers to questions in your FAQ section
·         Provide facts and organize them well (lists, bullets, etc.).
·         Allow one piece of content to answer several similar questions (once an article is featured in the snippet, it has more chances of appearing there in response to similar questions).
·         Use eye-grabbing images.
·         Work on your on-page SEO.
Knowing how to optimize for voice search when trying to get the snippet spot is vital to the success of your SEO campaign.
8. Check Mobile Operation
More than half of online shoppers make purchases via a mobile device. Users who had a negative experience with a mobile version of your store are 62% less likely to purchase from it in the future.
Optimizing your website for mobile voice search must be on top of your list. The mobile-friendliness of your website can help it rank high on Google search, thus making it available to voice shoppers.
Ensure a Seamless Voice Searching Experience
Investing in voice search engine optimization for your website is integral for the success of your business. Not all e-stores can present a seamless voice shopping experience since they lack the necessary tools.
By exploring the available voice search and SEO approaches, you can improve buyer satisfaction and keep your stores on the top spots of search engine result pages. To optimize for voice search, you need to review your SEO strategy and adjust to the latest voice search SEO tactics.