If you build it they will come" will not work if clients can't find what you have built
You might have built an exceptional product but truth be told, the motto "if you build it they will come" will not apply if no one can find what you have built. Your brand will achieve more success online with actionable SEO strategies that are beneficial to SaaS companies.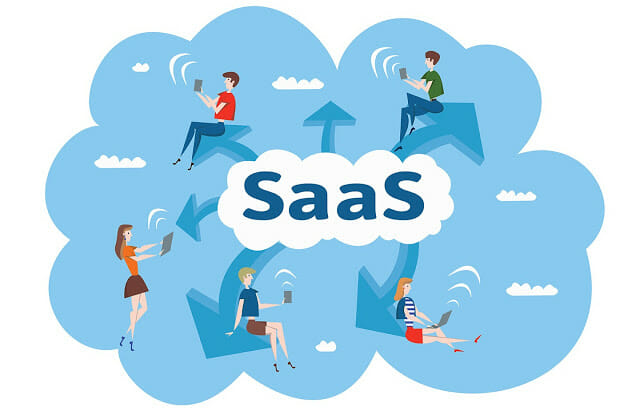 SaaS vs. Traditional Software: Why a Different SEO approach?
Since this guide is dedicated to revealing how SaaS companies can leverage SEO to increase traffic on their websites, it is important to point out the basic differences of cloud-based and traditional software tactics and the impact these have on SEO strategy.
SaaS is a cloud subscription-based service which is regularly updated and accessible via the internet. Traditional software, on the other hand, is a product that has to be installed on the computer.
And this is one of the major differences: SaaS is a service, while traditional software is a product. The way a SaaS company markets its products has to be very different from how a traditional software company conducts its marketing endeavors. SEO for SaaS company is tailor-made based on the service niche and target market.
SEO Strategy Planning for SaaS Companies
1.    Define the target market. Firstly and most importantly, you need to be very clear with the market you are targeting. This will determine your subsequent strategy, including keyword research and content plan. What is your target market? What companies/individuals would be/are using your services?
For instance, you are offering a Marketing Automation dashboard which draws information from different sources and helps businesses analyze and visualize their data to keep track of any progress and make more informed decisions. Then your target market would be various sized businesses: SMEs (Small-Medium Enterprises) digital agencies, small start-ups, and marketing specialists as well as large enterprises with their own marketing departments. You are offering a service – not a product, however, you need to be clear as to who you are offering it to and what problems it solves for the companies.
Defining your target market and your possible reach would mean that you will not miss out on any opportunities in the future during your keyword research and market expansion: each cluster of your target market could be looking for some specifics that your SaaS product offers. In the case of a dashboard, it could be compatibilty with certain CRMs for example.
Possible idea to start is entering in Google your service + for: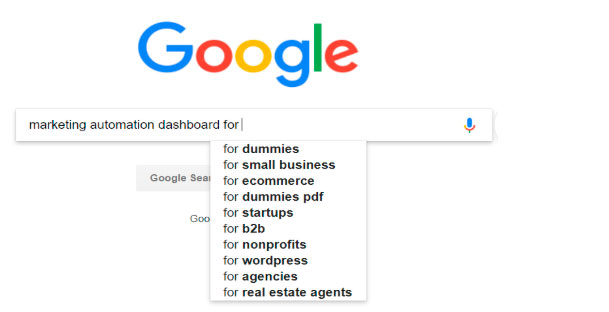 2.    Know your enemy.
Researching your competition and companies that offer similar SaaS services is one of the most crucial steps to building your own strategy:
What does their backlink profile look like?
What is their target market?
How much content do they have?
What strategies do they implement?
While researching your competition, aside from looking for ideas for your own SEO strategy, try to identify certain areas that make your services different. What do you have that they don't? This might help you not only convert leads but also start by covering a certain niche that is not too overcrowded yet. This will also be researched at a later stage during keyword research, however, you need to pay attention at the early stages to make sure you don't miss anything.
3.    Start Drafting Website Wireframe.
The wireframe represents your website structure: it is a visual of a sitemap. First, transfer all the existing pages (if any) from your website. Then using your earlier research add some ideas that you've come up with. This website wireframe will be modified many times during subsequent stages, this is an early draft. Add whatever idea comes to mind – you will check these during keyword research.
As SaaS is a service that offers SOLUTIONS, focus on covering these problems/solutions in your website structure.
As in the case with marketing automation dashboard, these solutions might include certain businesses (agency, real estate) or certain CRM compatibility (WordPress). This is one of the major differences between traditional software and SaaS, your product is versatile, so you need a more extensive research to cover all the potential traffic-relevant services.
This is especially true if you do not yet have a popular brand name: the only way to get discovered in search is by solving issues that people look for. Your strategy might include certain branding and influencer strategies at a later stage, however, this is definitely a good place to start: covering your entire niche start to finish within your website.
Keyword Research for SaaS Companies
Now that your head is probably full of ideas for your SaaS website SEO we come to the most meticulous and important process of the entire strategy: keyword research. Why?
Keyword research will form the core of your content, outreach and website structure strategies. Moreover, if you supplement your SEO efforts with contextual ads, then keyword research will be a great help that will help you to better optimize, target and convert your paid advertising efforts.
Onsite SEO For SaaS Companies
Once you are done with keyword research, you need to start optimizing and/or creating your pages. Create titles, meta-descriptions, h1 and h2 tags. Titles and h tags should include the most relevant keywords, while meta-descriptions should best describe the content of the webpage to increase CTR.
Link Building and Off-Site SEO for SaaS Companies
Backlink strategy is intended for increasing your domain authority. This is a very important part of any SEO strategy: the more NATURAL links your website has, the better the chances to take rank in top search results.
1.    Anchors
Make sure to use diversified backlink profile and avoid commercial backlinks. Use equal amount both of branded anchors as well as keyword anchors that you have identified during keyword research. Ensure that the page the anchor is intended for is optimized for the same keywords as the anchor.
For instance, if you are targeting homepage, use such anchors as your brand or 'marketing automation dashboard'. Avoid using 'buy marketing automation dashboard' (commercial intent).
Therefore each page or solution that you offer should have a diversified and well-researched anchor strategy.
2.    Host Websites
Every website that you are linking from should be relevant to your niche. Whether you offer services in financial, health or marketing sector, ensure that you carefully choose the websites that you link from. Plenty of websites have gotten penalties from search engines for low-quality inbound links.
Try to look for websites that accept reviews of various software and services review websites: that way you both get the link to your website and implement the branding strategy.
Content Strategy for SaaS
Content strategy should both be aimed at increasing your authority in the field and increasing your rankings.
1.    CONTENT ON YOUR WEBSITE
Although each page should be optimized for specific groups of keywords, content on your website should be informative and most importantly shareable. With most SaaS services offering solutions to a wide range of businesses, each page should outline benefits for each respective target cluster.
For instance, small businesses might be looking for a different set of features than bigger enterprises. Therefore the content should both be optimized for search engines and 'selling'.
2.    OUTREACH CONTENT
Outreach strategy for SaaS businesses has its own perks. You should not only build your highly relevant backlink profile but also establish authority in your niche as an expert in your field.
Reach out to reviewers, influencers and journalists
Write highly relevant content on the websites that target your niche industries. You need to ensure that your brand is positioned as an expert in your niche
Create your own online 'personas' who will pose as experts in the given field.
Make sure that your content targets a certain 'set' of your target market. Try to write in-depth, niche relevant articles.
Concentrate on long informative content as well as applicable 'How To…' guides (which you should have identified during the keyword research page).
Therefore, the main difference between SaaS content and that of other companies is the need for any SaaS service to not only acquire natural links but at the same time build their 'expert' reputation online.
Remember About the CRO
CRO stands for Conversion Rate Optimization. Aside from carefully choosing your titles and subheadings during the onsite implementation stage, you need to ensure that your website covers various industry and business verticals, as well as different stages of conversion funnels:
Make sure that your pages are designed to drive conversions: easy-to-read and catchy elements, educational and contain a call to action where appropriate. With most SaaS companies offering monthly billing plans, offer free trial options.
Although earlier mentioned, make sure that you target all your potential audience when planning pages and blog posts for your website.
Keep track of your stats and KPIs: if you have certain pages that do not get traffic, analyze what could be wrong, perform keyword expansion, test various optimization options. If your page gets traffic but it does not convert into leads, make sure that your page is optimized for the right keywords, that it is intuitive, well-designed and does not have any technical issues.
SEO for SaaS Сompanies – Infographic
Client's feedback on our SEO services for SaaS companies
Excellent service and intelligent advice, highly recommended. Our clients are established technology companies in the SaaS space.